News

HALO Missions' Second Trip to Zambia Helps Nearly 2,500 Children and Adults
Organization's Doctors and Volunteers Provide Cataract Surgery, Dental Care, Valuable Supplies and More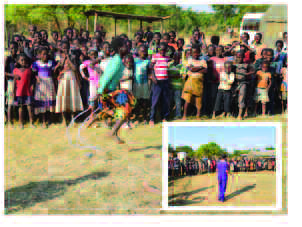 Several orphans playing around with one of our dental assistants.
HALO (Health and Learning for Orphans) Missions, based in Central Islip, New York, completed its second trip to Zambia, Africa in October 2016. This time around, they visited the villages of Lufwanyana and Chingola to provide the regions' children and adults with medical care, reading glasses, clothes (including school uniforms) and gifts. During this trip, they were able to treat and help approximately 2,400 patients.
Zambia is a country located in southern Africa with a population of about 12 million people. The people in this country, along with many others, battle all different types of diseases, including AIDs and malaria. These diseases have killed millions and have left millions of children orphaned including an estimated one million in Zambia alone.
With the help of generous contributors and volunteers, HALO Missions provided medical care, clothing and gifts to over 600 people in 2015 and quadrupled that number in 2016, with assistance to more than 2,400 people. One of the most prominent pieces of this latest trip was HALO Missions' ability to obtain government approvals to put together a surgical unit, where doctors performed cataract and dental surgeries and were able to restore sight for 10 legally blind patients. The organization is now making plans to purchase surgical equipment that will enable its doctors to perform hundreds of cataract surgeries in the future.
Further, Dr. Laurence Wynn from Stony Brook University Hospital and Dr. Richard Bonati of Nesconset assembled a team of five dentists who performed examinations and procedures on more than 1,200 patients. Throughout the organization's time in Zambia, the dentists completed over 1,000 extractions of infected teeth, which can lead to serious health problems. In addition to the surgeries, every patient was also provided with toothbrushes, toothpaste and lessons on how to properly brush and care for their teeth.
Medical care was not the only thing provided during the trip. The organization also provided out hundreds of pairs of reading glasses to adult caregivers as well as gifts and clothing for children, such as soccer balls, baseball equipment and jump ropes and school uniforms, shirts, pants, winter coats and shoes. The school uniforms were especially important as the region's children cannot attend school if they are not wearing a school uniform. Now, even more children can go to school to earn an education and, hopefully, better their lives in the future.
"None of this would have been possible without the help of our supporters," says Christopher P. McGuire, Esq., Co-Founder of HALO Missions. "Because of them, the people of Lufwanyana and Chingola can see, they can be healthy and they can better enjoy their lives. We are so glad to have been blessed to be in the presence of these beautiful children and the inspiring adults who care for them. We hope next year's trip can be even more successful than this one."
Doctors and nurses interested in signing up for the upcoming or future medical missions trips, and individuals wishing to contribute or volunteer should click on the get involved links from the home page.