News

September 2017: HALO Missions Returns to Zambia with Medical Staff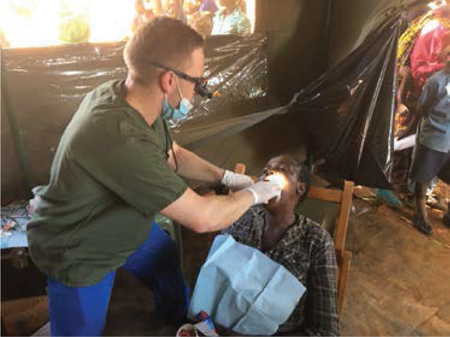 Dr. Baxter performing tooth extractions.
In September, 2017, HALO traveled to Zambia with Dr. Bopp, our Medical Director, Dr. Stone and Dr. Paula, our ophthalmologists, Dr. Harrison and his team of 5 dentists, and 2 nurses. We are excited to report the following results:
Medical Care: We provided medical care and assistance to orphans and their caregivers in Ndola, Zambia. Our teams worked tirelessly to triage and treat approximately 2,400 patients. Many were screened and attended to for AIDS, malaria, parasites, infections, wounds, cataracts and eye diseases, dental and other ailments.
Cataract surgeries: There are only 15 ophthalmologists in Zambia to treat a population of 16 million people -- about 1 ophthalmologist per 1 million! HALO worked hard to obtain governmental and hospital approvals to perform sight restoring cataract surgeries. Our efforts this year resulted in the restoration of sight to more than 77 legally blind individuals in one week at a Ndola hospital (This figure is up from last yearís total of 17 surgeries; plus the hospital we worked at only performs 100 cataract surgeries per year!) In addition, our doctors trained local ophthalmologists to perform surgeries throughout the year with our equipment for future generations.
Dental surgeries: Dr. Devin Harrison assembled a team of 5 dentists, and the team treated more than 1,200 dental patients. More than 1,000 extractions were performed (infected teeth can lead to serious health problems and even death), and the patients were provided toothbrushes and toothpaste and lessons on how to brush and care for their teeth.
Doctors and nurses interested in signing up for the upcoming or future medical missions trips, and individuals wishing to contribute or volunteer should click on the get involved links from the home page.